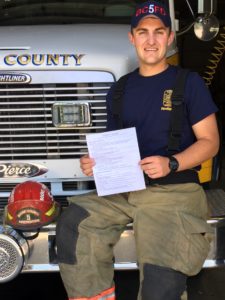 Eli Strobel
Firefighter/EMT
Columbia, MO
---
Challenge
"I had been applying to every single open EMS position that I could find online. But I could never get a call back and I couldn't figure out why. I knew I was qualified for the jobs I was applying for."
Solution
"A friend of mine recommended Respected Résumés to me. He spoke of their outstanding customer service and professionalism. I was intrigued, so I sent them everything I had about my old job history and let them figure everything out."
Result
"I was blown away by the appeal and formatting of my new résumé and LinkedIn overhaul. It was clear that whoever wrote my new résumé is very experienced in emergency services.
They changed my life and I am now a full-time Firefighter/EMT. I still believe recruiting and on-boarding processes are in need of a big change, but having my résumé and LinkedIn done was the best decision I could have made."