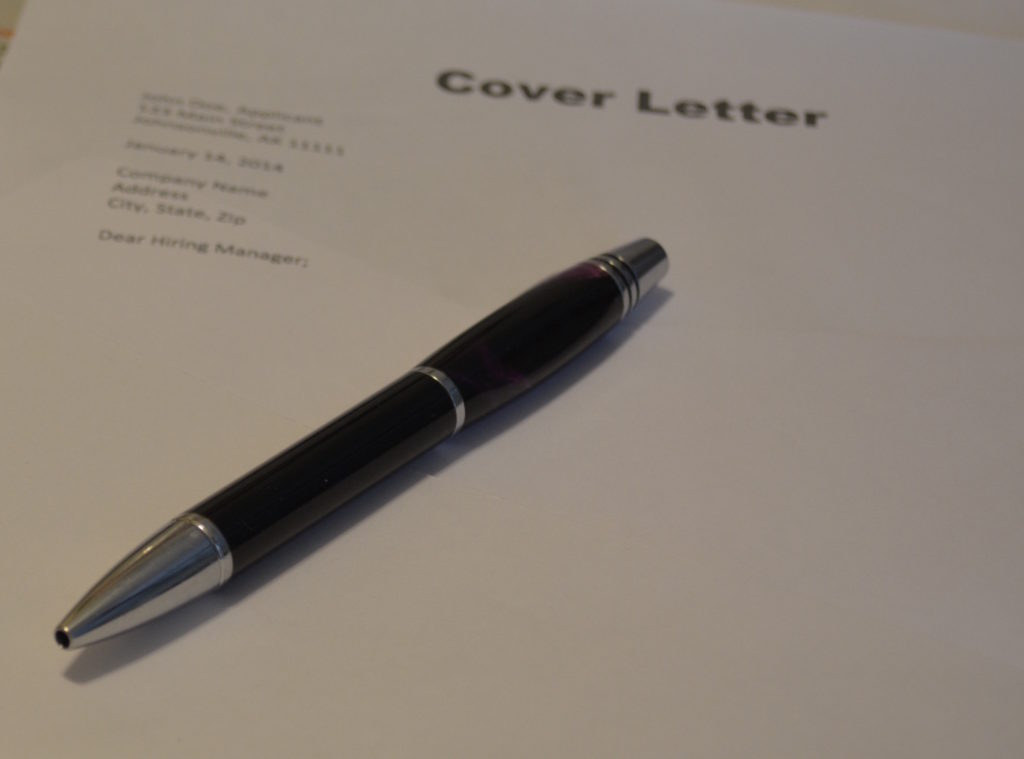 You've found your dream job listing and you launch enthusiastically into updating your résumé to talk directly to the job description. You're energized and are already fantasizing about what your new office is going to look like, but then you are brought down to reality by the looming cover letter ask. "Do people even read them?" you ask yourself. Well, yes they do. "Not sending a cover letter is a sign of laziness" says Jodi Glickman author of "Great on the Job." But you're not lazy you are just overwhelmed by the daunting task, right?
So What Is the Aim of the Cover Letter?
"The résumé focuses on you and the past. The cover letter focuses on the employer and the future. Tell the hiring professional what you can do to benefit the organization in the future." – Joyce Lain Kennedy, Cover Letters for Dummies
It's a one-page call to action inspiring a potential employer to read your attached résumé. You will introduce yourself -not your entire biographical memoir just the highlights that pertain to the job offered. You'll make a clear case as to why you are the perfect fit for the job. You'll add elements that your résumé doesn't capture and perhaps expand on some aspects of your résumé that needs context or fleshing out. It's a request to meet the employer in person. In one page! This is the best friend to your brilliantly written résumé – it's going to speak on your behalf, talking up your great qualities. This is you making a good first impression –because it counts. When a cover letter is written well it instantaneously tells your employer about your level of communication skills.
One-Page Format to Follow
"The most valuable of all talents is that of never using two words when one will do." – Thomas Jefferson
∞ Clear Contact Info: Add both the employers and you own information.
∞ Personalized Introduction: find out the name of the hiring manager. Don't "Sir or Madame" anyone it's the 21st century, also run a mile from "To whom it may concern."
∞ Paragraph 1: Mention the position you are applying for and where you found the listing. Succinctly highlight basic info about yourself like your degree and expertise as well as how your career goals align with their company's vision.
∞ Paragraph 2: Put your best foot forward. Sell how your skills match the company's need using actual phrases from their listed job description.
∞ Conclusion: Bold CTA (call to action) about why they should interview you immediately.
Style tips: use 1" – 1.5" margins, font size must be 12 point and above, match font style to the employers one used on their website (or one that is synonymous with professional documents), keep paragraphs left aligned (i.e. uniform alignment throughout). Organize each paragraph around a clear main point in a logical sequence.
Here Are Some Crucial Do's and Don'ts
DO…
∞ Research: Look up the company. Find out everything about them. Reading the job description is not enough. When you know their company culture it will guide your use of the right tone for your cover letter.
∞ Tailor Make: Ensure your letter demonstrates knowledge of the company you are applying to and isn't just a cut and paste template.
∞ Attract Attention: Start strong showing your personality.
∞ Highlight your Personal Value: Show how you can solve problems facing the company and show how your experience matches their needs.
∞ Be Authentic: Convey your enthusiasm in a mature and professional way.
∞ Keep it Short: Less is more. It must be able to be read at a glance. 250 words are actually ideal.
∞ Show Future Fitness: Explain how you will work on the key business challenges going forward. "This is what I can deliver…"
∞ Show Skills: Highlight skills over education
∞ Add Figures: Employers love to see the numbers. Don't be scared of showing the stats of your skills.
∞ Get Advice: Ask a friend to look it over to test its efficacy.
DON'T…
∞ Use Jargon: Avoid long sentences.
∞ Hard Sell: and steer away from gimmicks.
∞ Try to be Funny: It usually falls flat.
∞ Flatter Unnecessarily: You're not a teen fan.
∞ Use Generics: Customize for every job.
∞ Repeat your Résumé: describe additional details
∞ Use bullet points: Full sentences are required.
∞ Talk about yourself only: It must be in the context of how you can serve the job not the other way around.
∞ Apologize: Don't draw attention to your weaknesses or lack of skill in a certain area by apologizing.
∞ Use too many adverbs: Be normal.
Don't' Forget to ATS Format
"There is a way to do it better…find it." – Thomas Edison
ATS or Applicant Tracking System is the automated software that reads through résumés and picks out key phrases and words to statistically decide whether you get to go to the next round. Apparently, almost 70% of all jobs are filled using ATS. There are some ATS software capabilities that also reads through cover letters as well. While not all of them do, it is worth it to make all aspects of your correspondence to be ATS compliant. This translates into making sure you have included the words from the actual job description into your cover letter to improve your chance.
Not Sure Where to Start?
"No one ever gets very far unless he accomplishes the impossible at least once a day." -Elbert Hubbard
Speak with one of our Résumé Experts today by submitting an inquiry here– we would love to hear from you.
Respected Résumés has 20 years' experience in the field, producing more than 100,000 résumés. We have a 93% success rate in obtaining interviews, and that is precisely the sort of advantage you need on your side. Let's get to work!